PromptGenie is an AI writing assistant designed specifically to help ChatGPT users create better prompts. Its main purpose is to transform basic prompts into "super prompts" – optimized prompts that maximize ChatGPT's potential and lead to higher-quality AI-generated content.
Improve the quality of ChatGPT content – PromptGenie's super prompts lead to higher-quality output from ChatGPT.
Save time – Users don't have to spend time wordsmithing prompt wording and can rely on PromptGenie to optimize prompts.
Enhance overall ChatGPT experience – With better prompts, users can get more value out of ChatGPT interactions.
Key Features
Super prompt generation – PromptGenie's key feature is its ability to convert regular prompts into enhanced, super prompts tailored for ChatGPT. It applies advanced techniques to optimize prompts.
Made for ChatGPT – PromptGenie is built specifically for ChatGPT, fine-tuned to improve its performance through prompt optimization.
User-friendly interface – It has an intuitive, easy-to-use interface allowing users to seamlessly generate super prompts with minimal effort.
Save prompts – Users can save their best super prompts in PromptGenie for repeated use.
Chrome extension – PromptGenie offers a Chrome extension for direct access within ChatGPT.
My Experience with PromptGenie:
I signed up for a free trial and gave Prompt Genie a super generic input "SEO optimized blog writing with appropriate headers and FAQs at the end that is 1500 words long". The prompt that I received in response can be seen in the picture below;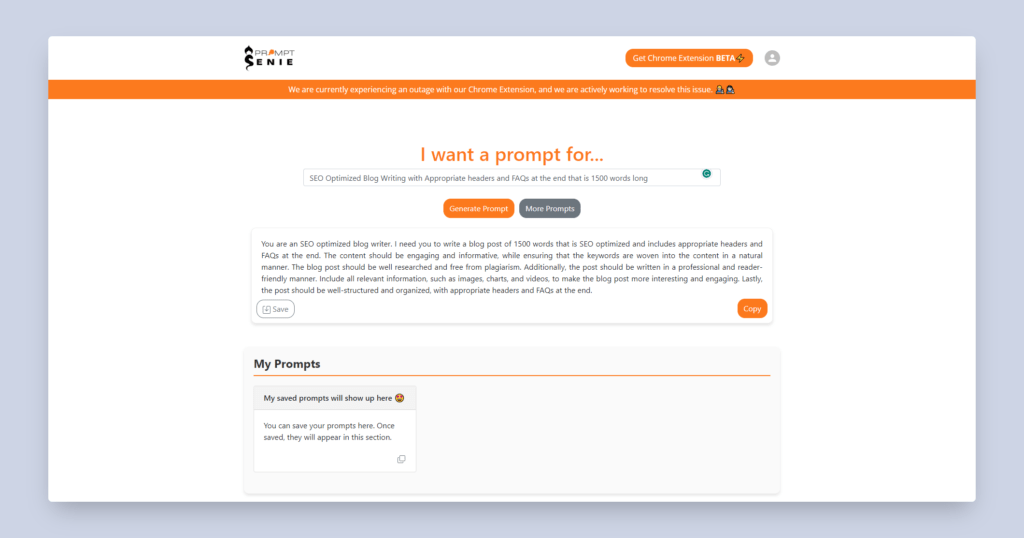 I copied the same prompt into ChatGPT and the results that I received from ChatGPT were impressive, way better than countless other prompts that I have tried before. The results can be seen below: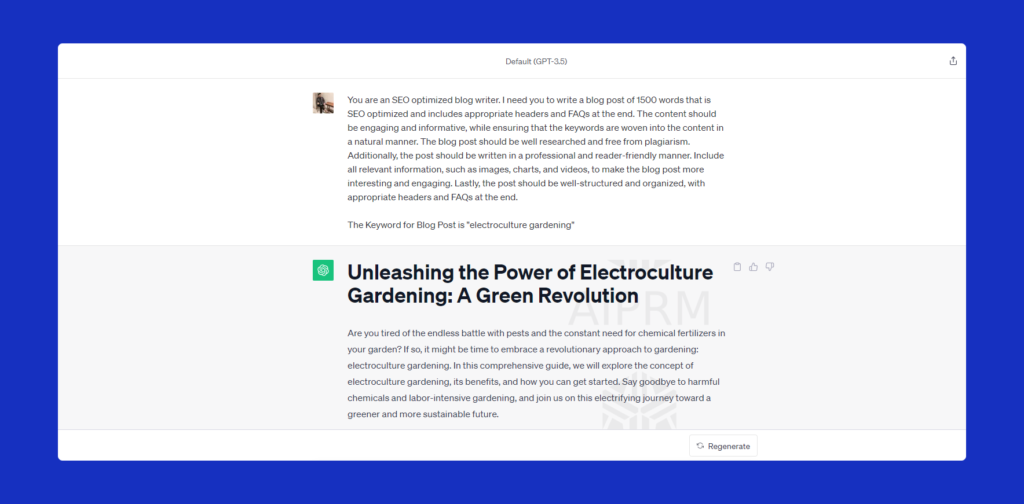 How much does PromptGenie Cost?
PromptGenie has a 14-day free trial period which provides full, unlimited access to all features. After the 14-day trial, users can subscribe to a monthly plan priced at $6.99 per month. The monthly plan also provides unlimited prompt generation. A credit card is required to start the free trial.
Use Cases
Academic writing – Creating super prompts for research papers, essays, dissertations, etc.
Marketing copy – Optimized prompts for product descriptions, website content, branding, etc.
Creative writing – Super prompts for short stories, poems, lyrics, scripts.
Tutorials/guides – Prompt optimization for how-to articles, tutorials, and explainers.
Final Verdict
In my experience, you can do wonders with ChatGPT if you know how to prompt it better, and PromptGenie is the tool that can help you do that. So, If you are someone who struggles with getting high-quality results from ChatGPT, PromptGenie is a must-have tool for you. Sign up for the free trial, test it out, and you will see the amount of time, energy, and effort this one tool can save you.
FAQs
Does PromptGenie work with other AI models besides ChatGPT?

No, PromptGenie is specifically designed and optimized only for ChatGPT. It does not work with other AI models.

Is there a limit on how many prompts I can generate?

No, PromptGenie has no limits on prompt generation for both its free trial and paid monthly plans. Users have unlimited access.

How does PromptGenie make prompts better?

It applies advanced techniques like providing optimal context, examples, formatting, tone instructions etc. to transform regular prompts into super prompts tailored for ChatGPT.

Does PromptGenie retain or store the prompts I create?

No, PromptGenie does not keep or store any user-generated prompt data. Your prompt privacy is maintained.

What happens after the 14-day free trial?

After 14 days, your free trial expires. You can then subscribe to the paid $6.99/month plan to continue using PromptGenie without limits.