Musicfy is an AI tool that allows users to generate studio-quality vocals simply by typing lyrics, descriptions, or emotions. Moreover, they can also transform their own voices into different instruments and sounds. Musicfy's main purpose is to make music creation efficient, collaborative, and inspired using the latest artificial intelligence capabilities.
What Makes Musicfy Great
AI Vocals – Generate studio-quality singing vocals simply by adding your audio file, recording it, or even pasting a YouTube video URL.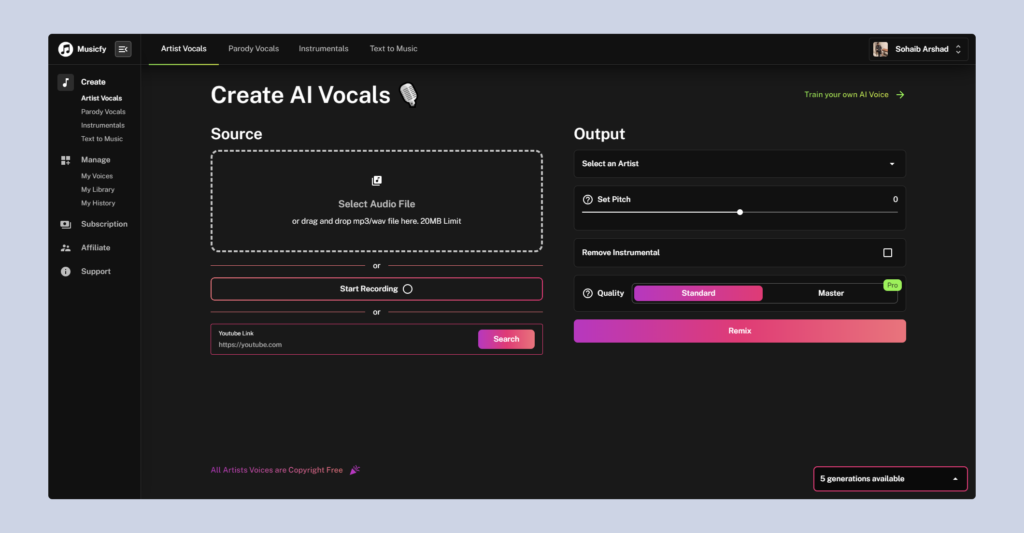 Voice Cloning – Clone your voice or convert it into different instruments, sounds, and effects.
Text-to-Music – Convert text into original melodies and compositions for films, videos, and songs by typing lyrics, descriptions, or emotions.
Parody Voice Remixing – Remix popular songs with funny, parody voices using voice conversion. There are all kinds of options from Donald Trump parody voice to Miles Morales from Spiderman and 2Pac.
Stem Separation – Isolate song components like vocals, drums, guitar, bass, etc when you are generating AI vocals.
Discover AI Covers – Explore AI-powered covers of popular songs.
Royalty-Free Albums – Quickly create albums using royalty-free AI tracks.
How Much Does Musicfy AI Cost?
Musicfy has a free starter plan that offers 5 generations for free. As for paid plans, they start at $9.99/month or $95.99/year for the Starter tier. The Pro plan is $24.99/month or $239.99/year. The top tier Studio plan is $69.99/month or $671.99/year. More features such as multiple custom models or premium sound are unlocked at higher tiers.
Use Cases
Independent musicians – Create original compositions faster.
Songwriters – Bring ideas to life instantly with AI capabilities.
Producers – Enhance workflows. Automate tedious music production tasks.
Filmmakers – Score videos and films with ease.
Voice actors – Use voice cloning and conversion features.
Remixers – Effortlessly make parody versions of songs.
FAQs
1. What music formats does Musicfy support?
Musicfy supports common formats like MP3, WAV, FLAC, MIDI, etc. You can also paste a YouTube video URL and Musicfy AI will automatically convert that into an MP3 track.
2. Can I use the Musicfy AI tracks commercially?
Yes, Musicfy grants commercial usage rights for tracks created with its platform. So, if you are planning to use Musicfy-generated music to make videos for YouTube or even business, you will have all the rights.
3. Will my voice data be secure?
Yes, Musicfy implements security measures like encryption to protect user data privacy. So, if you use your own voice/ your custom AI model with Musicfy, your data will be safe.
4. Does Musicfy provide technical support?
Yes, they offer 24/7 customer support via live chat and email.
5. Are there royalty-free music samples in Musicfy?
Yes, Musicfy gives access to an extensive library of copyright-free music samples.
Concluding Remarks
For musicians, producers, and creators, Musicfy is an invaluable AI assistant that makes previously complex music production processes intuitive and efficient. With its array of pioneering capabilities, excellent sound quality, collaborative features, and competitive pricing, Musicfy aims to change the way music is created. And it's not just musicians, but common folks like you and me who love to experiment with new stuff, Musicfy is for us.