Looti is an AI software that helps B2B businesses discover and engage new qualified leads. It analyzes customer data to identify ideal target audiences and prospects that match a company's ideal customer profile.
How does Looti work?
Looti's AI gathers signals from CRM data, LinkedIn, and other sources to identify accounts with a high propensity to convert. Users can fine-tune lead lists with over 20 filters to hyper-target outreach.
The platform also segments contacts into personas and provides analytics on customer composition by industry. These insights help focus marketing and sales efforts. Below is a screenshot of leads generated with Looti for a test audience: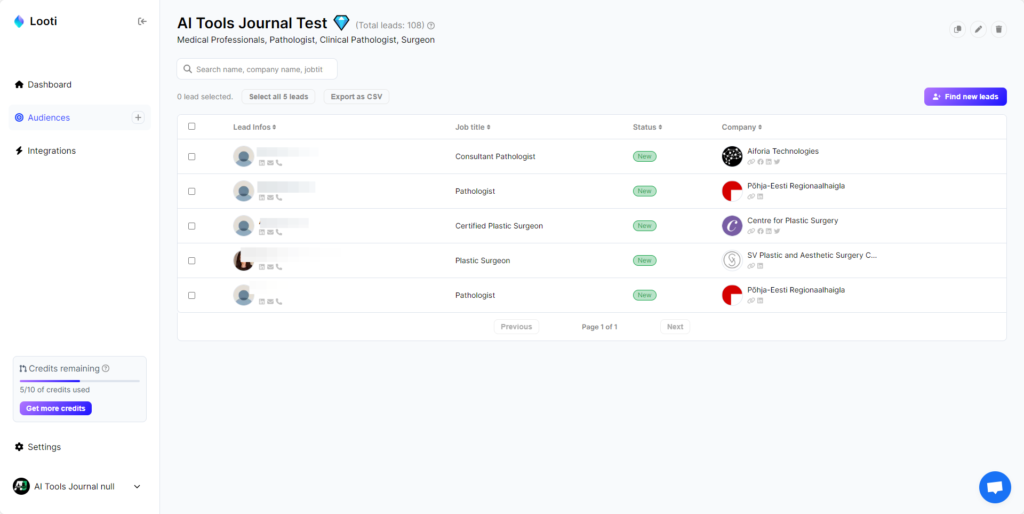 Looti Pricing
Looti offers three pricing tiers:
Free – 30 leads/month
Starter – $49+/month for 200 leads
Pro – $99+/month for 500 leads
Higher plans include more lead credits, premium features, and dedicated onboarding. Custom enterprise plans are also available.
For B2B companies looking to increase qualified leads, Looti provides an easy-to-use AI solution to uncover new opportunities and accelerate revenue.