ChatTube is an AI platform that enables users to have conversations with any YouTube video. Its main purpose is to create an interactive and immersive viewing experience by allowing users to ask questions, get summaries, translate content, and more. ChatTube also offers a Chrome extension that allows users to benefit from the platform without going back and forth.
With ChatTube, you can have personalized conversations related to video using natural language processing. As soon you paste the link, ChatTube provides a summary of what the video is about. Afterward, you can ask any questions that you have in your mind related to the video.
For testing, I pasted a link for the Deepswap AI review video into ChatTube. ChatTube provided me with a video summary right away. Moreover, it also suggested some questions that I might want to know about. I also noticed that some of those answers were not even provided in the video. For instance, I asked about the potential applications of DeepSwap which was not in the video. ChatTube AI provided me a detailed and logical answer right away.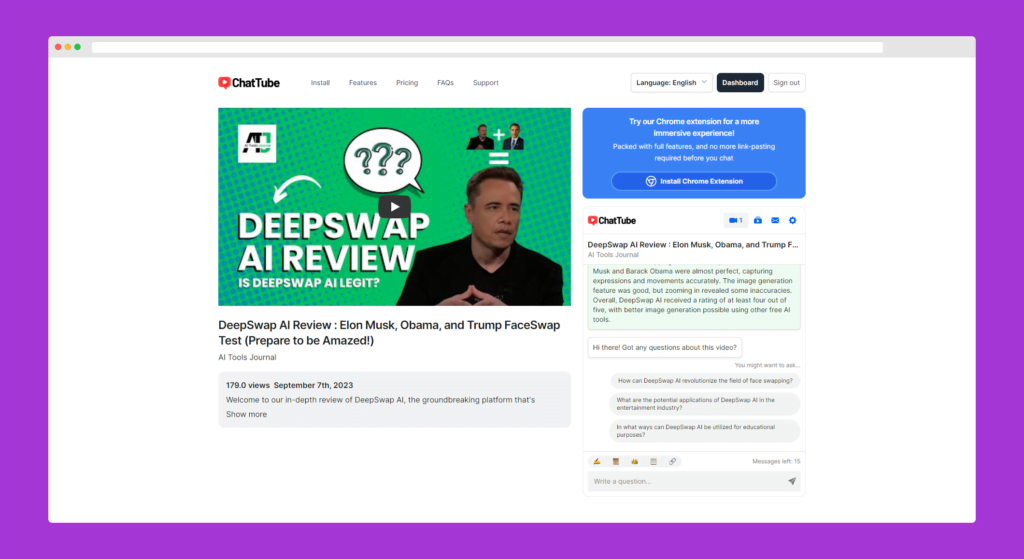 Use Cases
Students can have immersive educational discussions by chatting with lecture videos.
Fans can engage with content creators by discussing videos on relevant topics.
Travelers can get video summaries translated into their native language.
Tech enthusiasts can get their product questions answered directly by review videos.
Language learners can deepen their understanding of foreign videos through AI conversations.
Pricing
ChatTube offers a free trial for new users to chat with 3 videos per day. Paid plans start at $4.99 per month for the Essential plan, which allows 30 video chats daily. More capabilities are unlocked in the Growth ($9.99/month) and Pro ($14.99/month) plans.
FAQs
Does it work for videos without transcripts?
Yes, ChatTube can process untranscribed videos for up to 30 minutes (Essential), 45 minutes (Growth), and 1 hour (Pro).
Can I get recommendations based on my interests?
Yes, ChatTube also provides users with recommendations for videos that are related to the one you just watched.
Are conversations available in languages other than English?
Yes, conversations can be had in multiple languages by adjusting the settings.
Does ChatTube store conversation data?
Chat data is currently stored solely for the purpose of providing service continuity. Strict privacy measures are followed.
How frequently is the extension updated?
ChatTube is under active development with frequent updates based on user feedback.
Conclusion
ChatTube pioneers a truly interactive YouTube viewing experience using the power of AI conversations. With its ability to chat in real time, get summaries and translations, and maintain dialogue history, it unlocks deeper engagement with video content. For educators, techies, creators, and any YouTube enthusiast, ChatTube aims to be an indispensable AI assistant.