Deepfakes – manipulated videos or images that make people appear to be doing or saying things they didn't – have become increasingly prevalent with advancements in AI technology. While deepfakes raise concerns about misinformation, they also have many creative applications when used responsibly.
Deepswap AI is a popular web-based deepfake generator that makes creating high-quality deepfakes accessible to anyone. In this Deepswap AI review, we'll cover how it works, key features, use cases, pricing, and more to help you decide if it's the right deepfake tool for your needs.
Overview of Deepswap
Deepswap leverages state-of-the-art deep learning algorithms to swap faces in photos, videos, and GIFs. The web app provides an intuitive interface for generating deepfakes without needing technical expertise.
With Deepswap, you simply upload a source video or image and the face you want to swap into it. The AI handles face detection, tracking, replacement, and blending frame-by-frame to output a realistic deepfake.
According to the creators, Deepswap is used by over 150 million people worldwide to create fun deepfakes for memes, pranks, and social media. But it also has professional applications for marketing teams, content creators, game developers, and more.
Key Features and Benefits
Here are some of the notable features and advantages of using Deepswap for AI-powered deepfakes:
Realistic face swapping – Deepswap's algorithms accurately replace faces with smooth, natural blending.
Support for multiple faces – Swap up to 6 faces in a single video or image.
Fast processing – Results are generated quickly, usually within seconds or minutes depending on length.
GIF maker – Convert photos and videos into customized animated GIFs.
Meme generation – Create viral memes by swapping celebrities or adding comic effects.
No watermarks – Download your creations without any watermarks or branding.
Privacy – No user data collection; all uploads are automatically deleted within 7 days.
A Walk Through The DeepSwap.ai Experience
Enough talk, let's walk and take you through the process of swapping assets using DeepSwap.ai. Don't worry, it's not rocket science. Deepswap is designed to be intuitive for beginners. Here is an overview of the basic deep fake creation process:
Step 1: Sign up for an account on DeepSwap.ai. It's a straightforward process that takes just a few minutes.
Step 2: Once you're logged in, go to the 'Face Swap' section. Here, you'll see the upload file button. Upload a source video, photo, or GIF.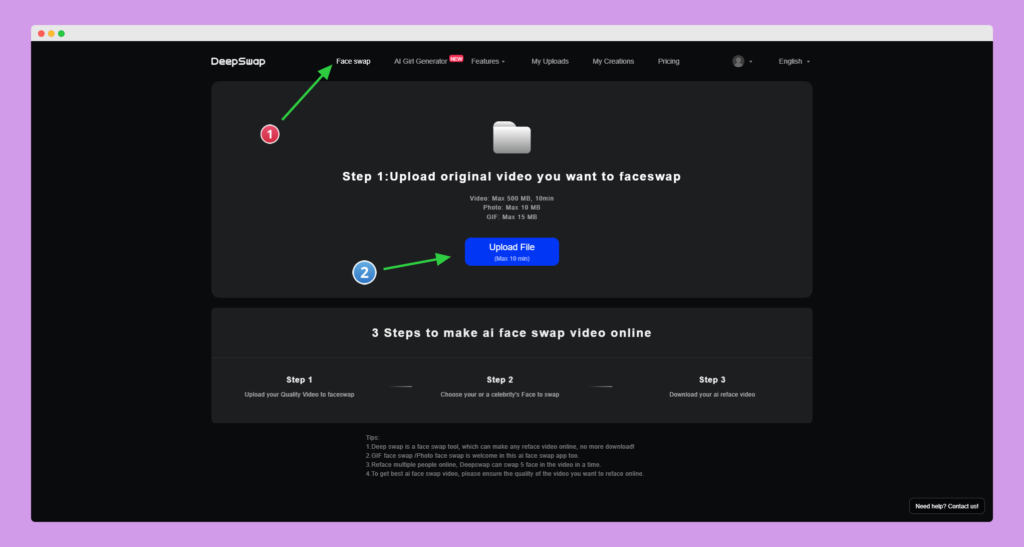 Step 3: Upload a face image to swap into the source.
Step 4: Click on the 'Swap' button and let Deepswap process the deep fake with AI. In a few seconds, you will be able to preview and download the final face-swapped result.
See? Easy, breezy, no maze.
Deepswap Pricing
Deepswap does not offer any free trials or free credits for face swapping. Free Users only get 2 free AI image generation credits per day. As for paid subscription plans, here are the details: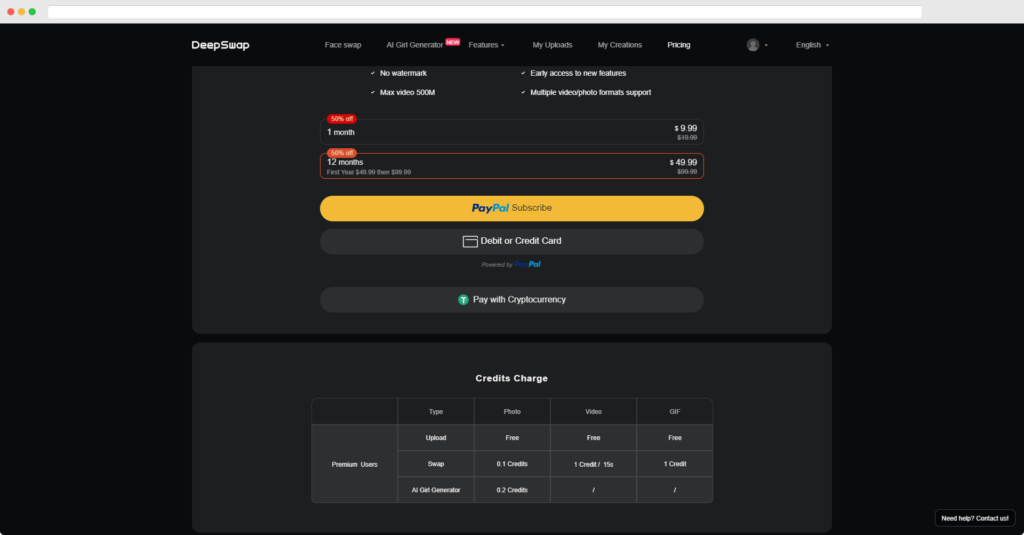 Free Plan – Limited to 2 AI image generations per day without any watermarks
Monthly Plan – $9.99 per month for the first month, then goes up to $19.99 for 20 face swap credits, no watermarks. These 20 credits are equal to 5 minutes of video generation.
Yearly Plan – $49.99 per year (equivalent to $4.17/month) after a 50% discount. Original Price is $99.99 per year for 240 credits. These equal to 1 hour of face-swapped video generation.
Some AI platforms also offer free credits for their users which can be earned by performing different tasks such as NightCafe AI. But Deepswap has no such options.
Functionality and User-Friendliness: A Critical Evaluation
Now, let's get down to the nitty-gritty. How good is DeepSwap.ai's functionality? Is it as user-friendly as it claims to be?
In my experience, DeepSwap.ai delivers on its promises. The platform's functionality is top-notch, with no glitches or hiccups. I tested it for quite a few videos, all with different sizes. And everything worked well.
As for user-friendliness, DeepSwap.ai scores high. The platform's design is clean and intuitive, making it easy for users to navigate and perform transactions. Plus, the website is responsive, which means it works well on both desktop and mobile devices.
Deepswap Use Cases
Here are some example use cases and applications for Deepswap's deep fake capabilities:
Create funny face swap videos with friends and family
Put your own face into iconic or trending memes
Insert yourself into scenes from popular movies or shows
Anonymize/pseudonymize faces for privacy
Add custom face filters and effects to social media posts
Create teaser trailers and marketing videos for projects
Develop characters and digital avatars for games/apps
Enhance presentations, training videos, and tutorials
Add a personal touch to wedding photos and memories
The Good, The Bad, and The Ugly – DeepSwap AI Review
Every coin has two sides, and DeepSwap.ai is no exception. The platform has its strengths and weaknesses.
On the positive side, DeepSwap.ai offers a seamless swapping experience, thanks to its advanced algorithms, user-friendly interface, and unique features.
On the flip side, DeepSwap.ai is expensive. For $19.99 per month, you get a total of 5 minutes for video face swap. If you buy the yearly plan for $49.99 (price after 50% discount), the time goes up to 1 hour. And if by any chance you spend those credits within the first month, you are sitting ducks.
Also, there have been some issues regarding auto payments. Many users complained that they wanted to cancel their subscription but did not get any response from the team and the amount was deducted automatically. So, I got in touch with their team while writing this Deepswap AI review and inquired about the issue. The representative ensured that the payment issue was fixed and their team can now handle cancellation requests much faster. Which I hope is the truth.
Also Read: 200 Professional Prompts for Midjourney
The Final Verdict
So, in this Deepswap AI review, what's our final verdict on DeepSwap.ai? In our opinion, it's a solid platform that offers a seamless, secure, and efficient swapping experience. For easy deepfake creation, Deepswap delivers excellent results through a smooth web interface.
Responsible deepfake use cases like entertainment, anonymity, and marketing can benefit greatly from Deepswap. Just always disclose that media has been modified when sharing deepfakes publicly.
The subscription pricing is reasonable considering the capabilities unlocked with the advanced AI technology. However, the monthly credits you get in return do not justify the quality. So when it comes to value for money, it is costly. If the Deepswap team starts offering more credits for the same price or other ways to earn free credits, I bet users would love that.
Overall, Deepswap earns its reputation as one of the most user-friendly and powerful consumer deepfake generators currently available online. Should you give it a shot? Absolutely! but make sure it does not go heavy on your wallet.
Your Turn!
Ready to take the plunge into the world of DeepSwap.ai? We encourage you to try it out and share your experiences. And remember, stay tuned for more reviews and insights in the digital world. Happy swapping!