Uptrends.ai is an AI-powered platform designed to help users stay ahead of stock market news, trends, and events. It aggregates and analyzes market chatter to provide actionable insights. Its powerful NLP algorithms analyze tone, emotion, and language in news articles and social media posts to gauge market sentiment and identify trends.
Uptrends AI platform filters out clickbait and irrelevant information to focus on reliable signals. This saves time and provides actionable insights to make smarter trading decisions.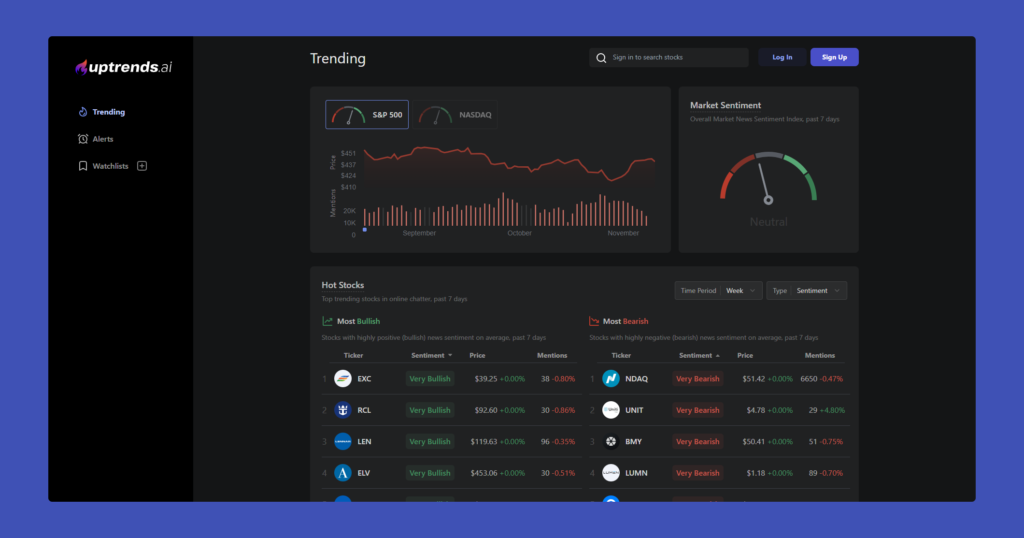 Here's what you can expect from Uptrends AI:
Comprehensive Coverage – Tracks news, blogs, forums across top finance sites.
Clickbait Filtering – Highlights truly relevant news, filters out clickbait.
Sentiment Analysis – Analyzes market sentiment based on news and social media.
Real-Time Alerts – Get notifications for market-moving news about stocks.
Leaderboards – See top trending stocks, sectors, topics in real-time.
Event Detection – Identifies impactful news events directly on stock charts.
Custom Watchlists – Create personalized watchlists for stocks and topics.
Accessible Interface – Intuitive and easy-to-use platform.
Where does Uptrends.AI Gather Information?
Uptrends.ai tracks thousands of finance and investing websites, notable finance figures on social media, subreddits like r/investing and r/stocks, and mainstream news sites. This ensures comprehensive coverage.
Use Cases
Investors – Make informed decisions based on sentiment and events.
Day Traders – React quickly to market-moving news with real-time alerts.
Finance Professionals – Understand market dynamics through comprehensive coverage.
Analysts – Gain insights from aggregated news and social media chatter.
Business Owners – Monitor news related to their industry verticals.
Journalists – Stay on top of major finance stories and trends.
Pricing
Uptrends.ai offers a free plan with limited functionality. The paid plans start at $9.99/month for Basic and $24.99/month for Pro with unlimited alerts and watchlists. There is also the option to sign up for a 7-day free trial of a paid plan. With that, you can try the premium features for free. And, if you feel like the value being offered is great, simply subscribe to a paid plan.
Conclusion
With its smart aggregation of diverse market information sources, clickbait filtering, real-time alerts, and insightful sentiment analysis, Uptrends.ai provides an invaluable resource for anyone looking to better understand movements in the stock market.