Mobirise AI Website Builder is an artificial intelligence-powered web design platform that automates and simplifies website creation. Its key purpose is to enable easy development of professional, optimized websites without coding. Therefore, with a user-friendly graphical interface and AI assistant, anyone can create fully customized, responsive websites in just a few clicks.
How does Mobirise Work?
The Mobirise AI Website Builder (ai.mobirise.com) revolutionizes website creation and design – just type a brief description of your website's purpose in the AI prompt, you'll receive a personalized design, layout, and content. The AI will even find color schemes, fonts, and images that align with your brand. Should you desire any changes, customization is a breeze – simply click a button, and the AI will regenerate any section's content. With its user-friendly drag-and-drop interface, you can effortlessly arrange pre-made content blocks to create stunning websites.
When you're satisfied with your creation, you can easily download the ZIP package, allowing you to publish your site anywhere you choose.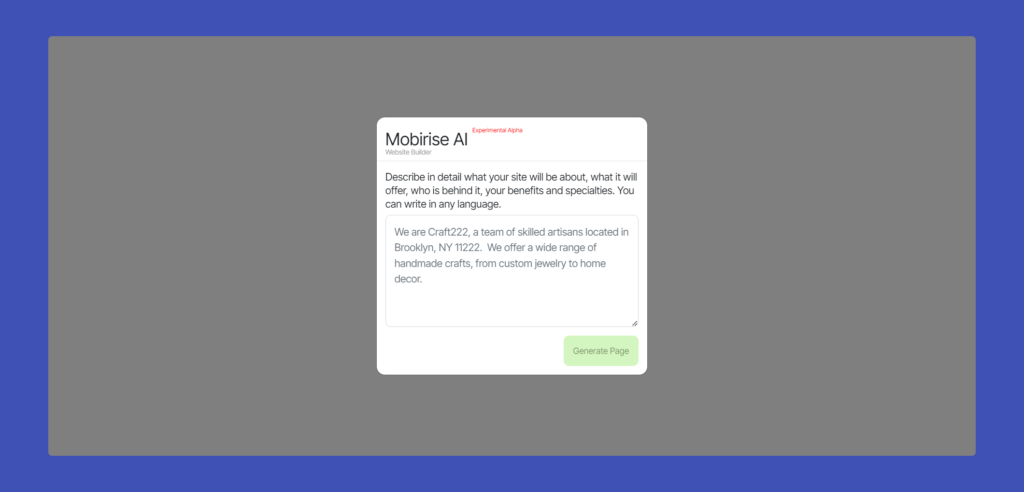 Benefits
Faster Development – AI automation speeds up design and development significantly.
No Coding Needed – Enables creating sites without programming expertise.
Intuitive Editing – The drag-and-drop editor simplifies layout changes and editing.
Customizable – Wide range of themes and elements for tailoring design.
User Experience Focus – Tools like parallax scrolling deliver engaging visitor experiences.
Future Proof – Bootstrap framework ensures sites function well on evolving platforms.
Use Cases
Small Businesses – Quickly build professional sites to establish online presence.
Startups – Rapidly launch websites for new ventures and ideas.
Non-technical Users – Create sites effortlessly without coding skills.
Design Agencies – Speed up development and focus creativity on custom sites.
Developers – Bootstrap sites faster as foundation for advanced customization later.
Conclusion – Mobirise Review
Mobirise AI Website Builder aims to disrupt web development by empowering anyone to create optimized, professional websites in a simplified drag-and-drop manner. With AI filling in the complex backend details, users are free to focus on crafting visitor experiences and transforming their visions into reality through easy-to-use visual tools.