FaceCheck ID is an AI-powered online tool that allows users to search for people by photo. Its key purpose is identifying individuals from images by leveraging powerful facial recognition technology.
Here is what FaceCheck.ID offers its users:
Facial recognition – Scans faces in photos to find matches in its database.
Image database – Draws from a large repository of photos sourced online.
Social media integration – Can reveal linked social media profiles of identified people.
Easy to use – Simply upload a photo for an automated search.
Potential verification uses – Can verify identities or check if someone is real.
Privacy controls – Gives users control over their searchability.
When you upload an image on FaceCheck.ID, the AI algorithm runs it across a large image database. The results you see are sorted from a most likely match to weak match. Every result is given a specific score so users can identify if it is a certain match or a weak match.
Along with that, FaceCheck ID also allows users to request removal of their images. For that, you have to select your images from the facecheck results and provide an ID or a selfie as required. This makes it a great option to not just identify your photos online but get them removed from unwanted sources.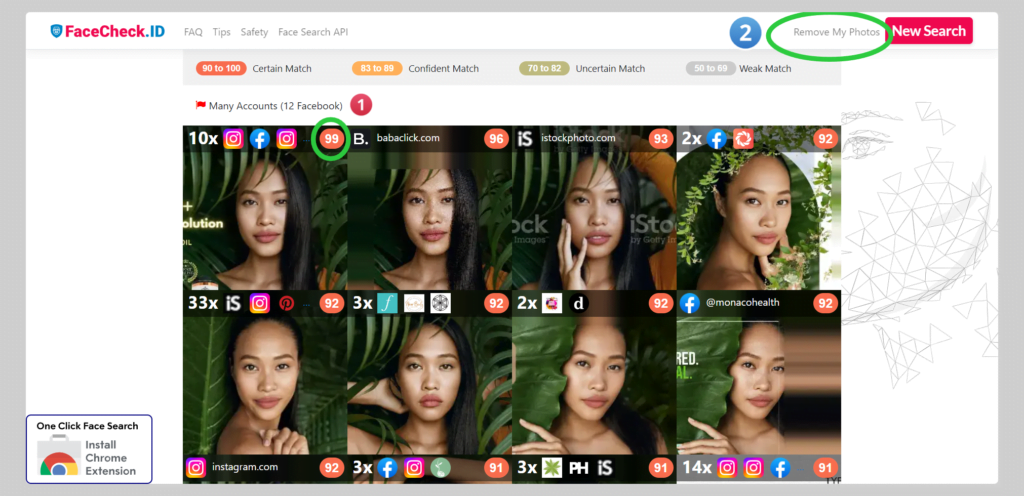 Use Cases
Finding old friends and contacts – Locate people you've lost touch with.
Dating and romance fraud detection – Uncover fake profiles and catfish.
Business verification – Check identities of potential clients or partners.
Background checks – Screen individuals for criminal records.
Identifying unknown subjects – Put a name to unknown people in photos.
Capabilities
Photo matching – Finds photos of the same person across multiple sources.
Age and demographic identification – Estimates age range and demographics like gender.
Social profile linking – Links matched faces to associated social media accounts.
Criminal record checks – Cross-checks faces against mugshot and offender databases.
Catfish detection – Identifies fraudulent dating and social media profiles.
Pricing
FaceCheck ID has a free version with limited searches which is 10 searches per day. The premium paid plan unlocks additional search capabilities and advanced features starting at $10/month or $90/year.
Conclusion
FaceCheck ID stands out as a powerful AI-driven people search engine for the digital age. With its deep image analysis capabilities and facial recognition technology, it empowers users to identify unknown people in photos and potentially verify identities. For investigating fraud, screening individuals, or reconnecting with long-lost contacts, FaceCheck ID offers robust photo-based search functionalities.