DoNotPay is an AI service that helps consumers fight back against corporations, protect privacy, find hidden money, and navigate bureaucracy. The goal is to empower everyday people through legal information and self-help tools.
DoNotPay leverages AI to help consumers tackle issues like getting refunds, reversing fees, filing complaints, and stopping spam. AI automation saves time and energy when disputing unfair corporate policies.
Benefits of DoNotPay
DoNotPay has been referred to as the "Consumer's best friend" because of its countless features that assist consumers on several ends. Below are some of the advantages users can have with DoNotPay AI.
Saves money through compensation and refunds
Recover wasted time jumping through hoops
Levels the playing field against large companies
Simplifies interacting with public services
Makes legal help accessible to all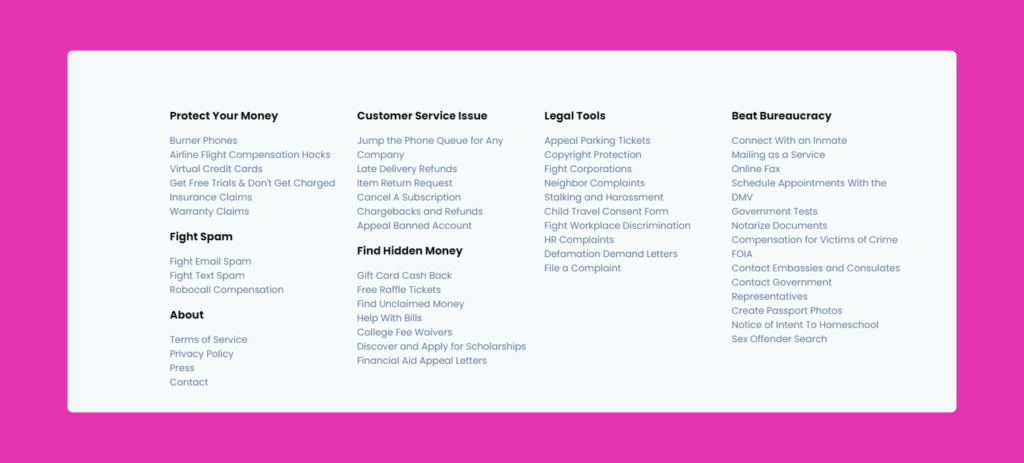 Is DoNotPay Legit?
Over the last few months, DoNotPay has received immense media coverage and has assisted thousands of consumers. It has been featured on platforms such as Forbes, Bloomberg, The Verge, and even The Daily Show with Trevor Noah. So, yes, the DoNotPay is legit.
Beat Bureaucracy
The service helps navigate complex government systems easily to register to vote, obtain documents, schedule appointments, and handle other public services. The AI guides users seamlessly through bureaucratic processes.
Find Hidden Money
DoNotPay can uncover forgotten rebates, unclaimed property, cash-back offers, and other hard-to-find payouts. This extra money can really add up over time.
How much does DoNotPay Cost?
DoNotPay offers a subscription plan where users are charged $36 every 2 months for their services.
With advanced AI, DoNotPay levels the playing field so anyone can fight back against injustices and solve life's frustrating problems.