Civitai is an open source platform for browsing, sharing, and downloading AI models for generative art creation. It focuses on Stable Diffusion models and embeddings that users can customize for unique results. That means, every user can customize models based on their preferences and share with the community. At the same time, you can use Civitai models to generate unlimited free AI art using any model of your choice.
Civitai provides a centralized model repository where creators can:
Search models by categories and tags
Filter by model architecture and file types
View ratings, comments, and examples for each model
Safely download models after vetting
Upload and share their own trained models
Follow creators and get updates
The platform facilitates model discovery, collaboration, and knowledge exchange within the Stable Diffusion community. Both novice and experienced users can find models tailored for specific styles, subjects, and use cases. As a result, users are now creating unique AI-generated art, music, videos, and other media. With shared insights, creators also get the feedback to maximize model potential.
How to Use Civitai Models for Art Generation
There are two ways to use Civitai to generate art:
The first options is to download the model based on provided instructions and run it.
The second option to use Civitai is to do so by going to your profile and clicking the "Create" button at the bottom right corner. That will open an off canvas window and allow you to select model and generate AI art right away.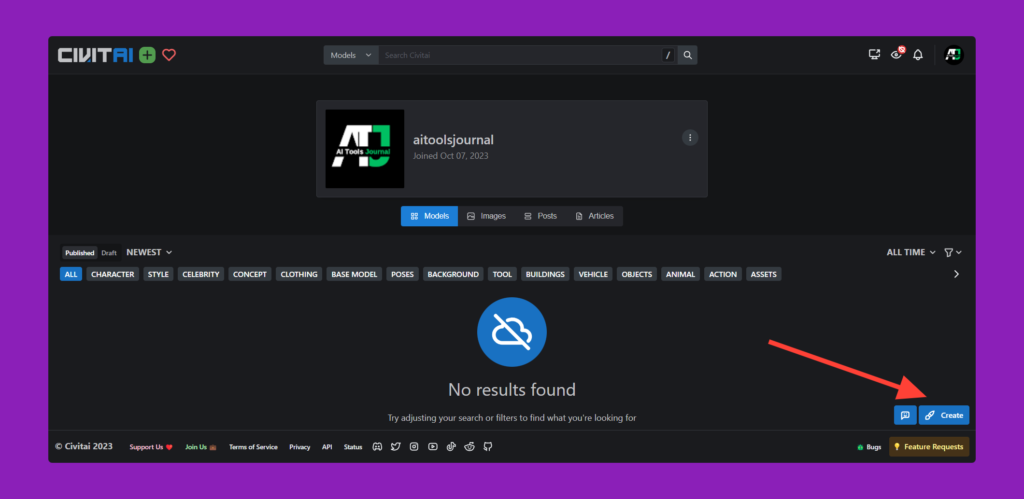 Safety and Moderation
Uploaded models go through safety checks before public availability. The community also moderates content and behavior on the platform. These measures ensure responsible model sharing and use.
Civitai ultimately envisions a future where democratized access and education around AI models drives positive change. The platform accelerates this goal through knowledge exchange and inclusive innovation.
Conclusion
For Stable Diffusion users looking to discover, customize, and share generative AI models, Civitai offers a robust platform. The hands-on community and vast model library fuel creative potential.