Transform how you sound with Voice AI, the most advanced real-time voice changer for PC. Its powerful AI instantly converts your voice into any character using advanced speech-to-speech conversion.
The intuitive interface lets you explore Voice AI's expansive library of ready-made voices. Find authentic voices of celebrities such as 2pac, politicians, accents and more. You can also clone anyone's voice by uploading a sample to create a customized voice filter.
Voice AI integrates seamlessly with VOIP apps like Discord, Skype, Zoom and leading games. Simply enable it as you play or chat to take on a new vocal identity. The AI retains tone and emotion for incredibly realistic results.
Whether you want to prank friends, better immerse in RPGs or explore new expressions, Voice AI empowers you. It makes professional-grade voice morphing accessible to all with its free software. Upgrade to premium for even more voices, effects and higher audio quality.
Join millions exploring the creative possibilities unlocked by Voice AI. Download the intuitive voice changer and speak like you never have before.
Voice AI Pricing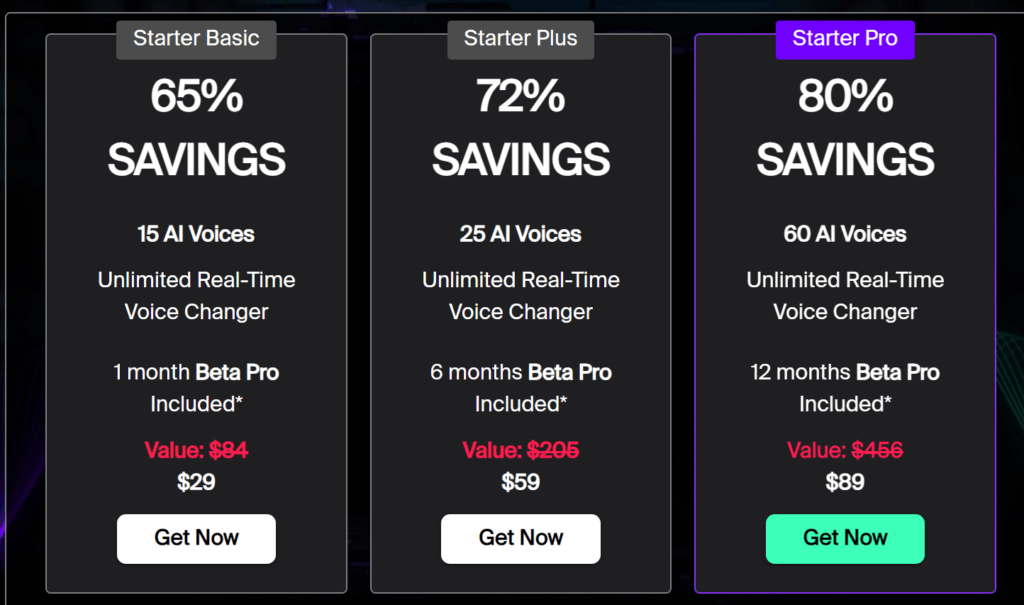 Voice AI offers unlimited voice changer with all its plans. However, the access to number of voices is limited based on plans. Here is a table;
Plan
Price
Key Features
Starter
$29
15 AI Voices
1 Month Beta Pro
Plus
$59
25 AI Voices
6 Months Beta Pro
Pro
$89
60 AI Voices
12 Months Beta Pro