Opus Clip is an AI-powered video editing tool that converts long-form videos into short, viral social media clips. The automated editing trims videos into highlights, adds captions/effects and rearranges content to maximize engagement.
Opus Clip analyzes videos to identify compelling hooks and valuable moments. It then seamlessly creates social-ready short clips optimized for platforms like YouTube, TikTok, and Instagram.
The AI also scores each clip on viral potential. Additional features like speaker-focused framing, text highlighting, emoji generation, and animated captions further polish the end results.
For video creators, Opus Clip saves huge amounts of editing time while increasing views and subscribers. There are free and paid subscription options available depending on usage needs.
How to Use Opus Clip for Content Generation
Using Opus Clip to generate content is pretty simple. To understand how to do it, follow the steps below:
Paste the video link in Opus Clip, AI will automatically fetch and analyze the video.
Select the video time frame if you need short videos from a specific duration (Optional).
Choose the language of the video (if it is other than English) and subtitles language (Optional).
Choose a preferred clip length or leave it to Auto. Also, you can add keywords to filter topics based on specific word usage.
Hit "Get Clips in One Click" and let Opus AI do its magic.
You will get an email once your videos are ready which can take anywhere from a few seconds to a few minutes depending on your plan. Now you will have the option to edit subtitle colors, style, video elements, etc.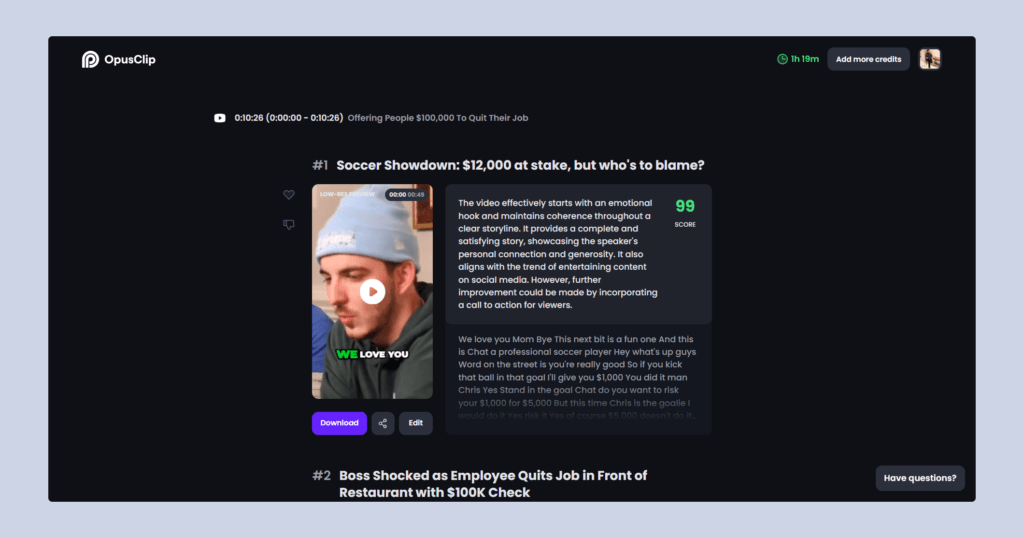 Opus Clip Pricing
| Plan | Billing | Price | Key Features |
| --- | --- | --- | --- |
| Essential | Monthly | $19/mo | 200 upload mins, 1080p clips, AI curation, auto reframe, advanced curation, templates |
| Essential | Yearly | $114/yr ($9.50/mo) | 2400 upload mins, 1080p clips, AI curation, auto reframe, advanced curation, templates |
| Free Forever | – | $0 | 60 upload mins/mo, 1080p clips, auto reframe, watermark after 7 days |
Pricing table for Opus Clip
Is there any Opus Pro plan?
Currently, Opus does not offer the Pro plan as it is set to be available starting in December. Opus Pro comes with several features that are not included in the Essential plan:

Priority Processing: Pro users jump ahead in the processing queue, ensuring faster video processing.
Expanded Video Sources: You can import videos from YouTube, Google Drive, Dropbox, Vimeo, and local video files, with larger file sizes of up to 50GB per upload.
Enhanced Sharing: Auto post to more social media platforms, including YouTube Shorts, TikTok, IG Reels, Twitter, Snap, and LinkedIn.
Sophisticated Editing: Access advanced features like AI-generated intro titles, emojis, keyword highlighting, and B-roll content.
Extended Storage: Your video upload storage is increased to 90 days.
Advanced Curation: AI curation options based on voice, emotion, and visual objects.
Curation by Virality Score: The Opus Pro plan includes AI curation with a Virality Score.
Customization: More advanced options for custom brand templates and captions.
Increased Caption Styles: Choose from advanced caption style selections.
Longer Video Preservation: Videos are stored as long as you're subscribed to the Pro plan.
The Pro plan offers an array of advanced features that can enhance your video creation and sharing capabilities.