InferKit is an AI text generator that focuses on sentence completion and generating text based on the user prompt. For instance, if you write "InferKit is among the best AI writing tools based on neural networks" as an input, it will start writing from where you left off. This makes it very useful for writers and creatives who often face writer's block.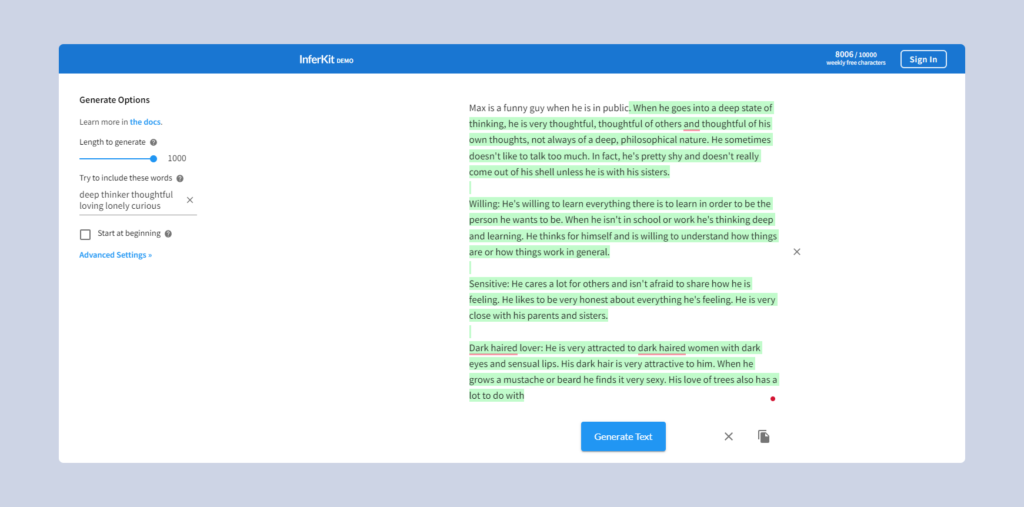 But InferKit isn't limited to just writers. Developers, too, can harness its capabilities. With a user-friendly API on offer, it's an ideal platform for tech enthusiasts aiming to craft new applications or products that leverage AI-driven content.
Whether you need story ideas, marketing copy, chatbot responses, or any kind of synthetic content, InferKit delivers. It learns from massive datasets to produce remarkably human-like text across countless topics when primed with an initial prompt.
As for pricing, InferKit pricing is subscription-based with monthly character limits. However, there is also a free demo with 10,000 weekly characters. So, you can try it for free before you spend any money.
Basic Plan: 600,000 characters for $20/month
Premium Plan: 2,500,000 characters for $60/month
The Premium tier allows enormous scale through auto-refill configuration. Additional characters can be purchased as needed at discounted bulk rates.